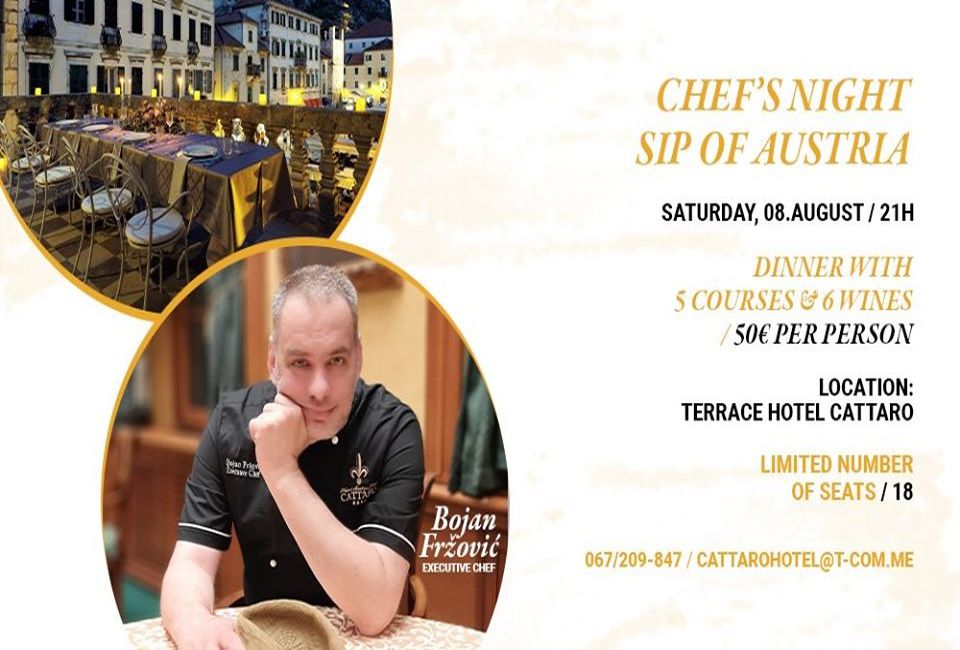 Chef's night summer edition at Hotel Cattaro!
Chef's night summer edition at hotel Cattaro continues on Saturday 08th August from 21h. Location is terrace of the hotel, with an incredible view at main square in Old Town. The capacity is 18 person so book your place timely.
Chef of the hotel Cattaro, Bojan Frzovic, has prepared this time a menu that is combination of sea, lake and meat specialties. Delicious tastes we have paired with wines from Austria - Nikolaihof and Umathum. We will have a chance to taste the best Austrian Weltlinere, Rieslings and red coupage from winery Umathum. Riesling "the king of white wines", will be the star of the evening and, as a true rarity, we will try out a predicat from 2006 that got 97 points from Robert Parker. We have already tried it all and, believe us, the combination is perfect!
We expect your call and booking timely because of limited seat numbers!
The price of the dinner with 5 courses and 6 wines is 50 Eur. Welcome!
Information and reservation:
mob. +38267209847
email: [email protected]