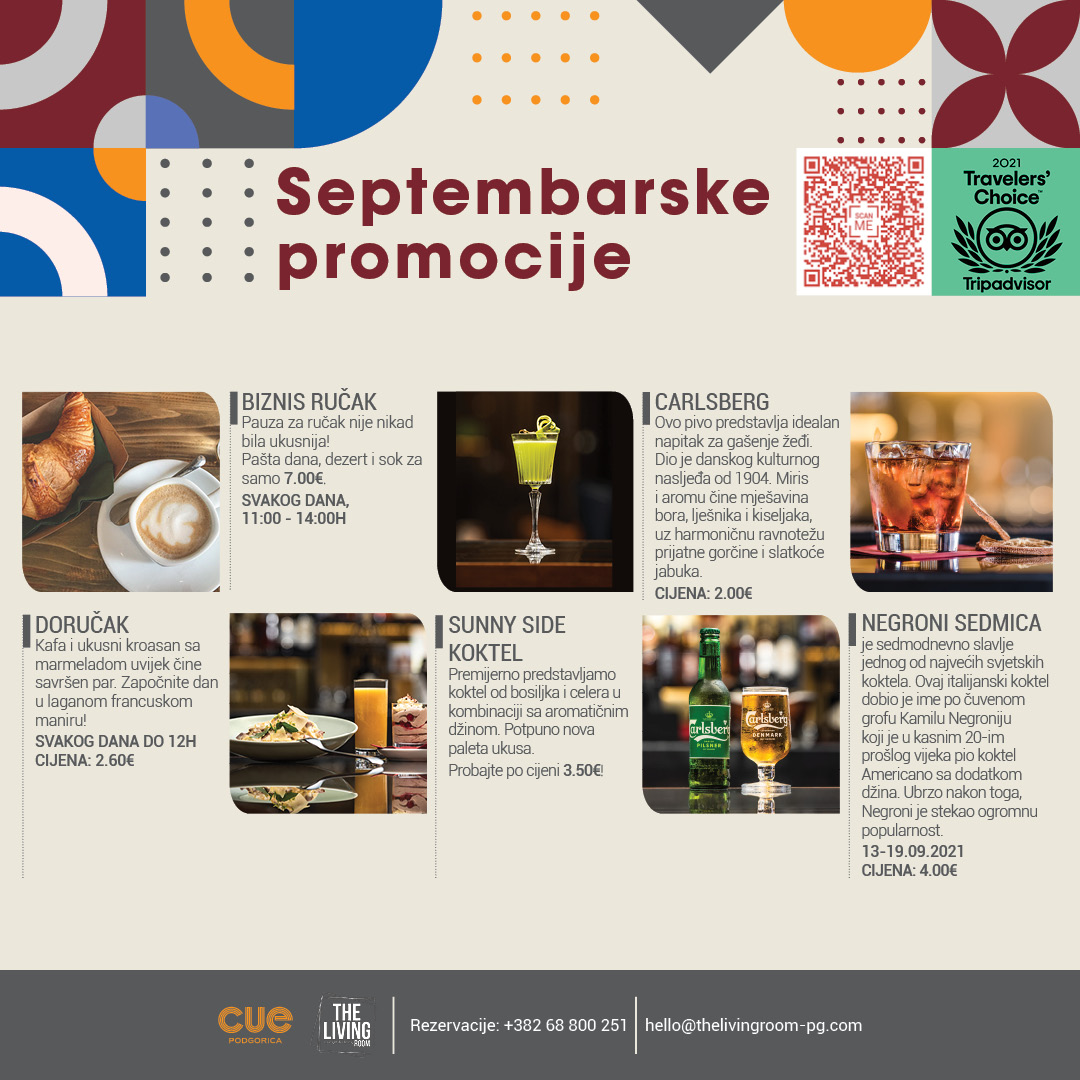 September promotions at The Living Room lounge Podgorica!
The September calendar at The Living Room lounge and dining has arrived! Although autumn is coming soon, we will not give up on summer easily. Check out promotions that await you and enjoy the flavors of the last warm month of this year! Welcome to your favorite living room!
1. Business lunch - the lunch break has never been tastier! Pasta of the day, dessert and juice for only 7 EUR.
The promotion lasts every day from 11am to 2pm.
2. Breakfast - coffee and a delicious croissant with jam always make a perfect pair. Start the day in a light French manner.
The promotion lasts every day until 12am and the price is 2.60 EUR.
3. Sunny Side cocktail - we premiere a cocktail of basil and celery combined with aromatic gin. Brand new palette of flavors!
Every day at a price of 3.50 Eur!
4. CARLSBERG beer - this beer is an ideal thirst quencher drink. It has been part of the Danish cultural heritage since 1904. The scent and aroma are a mixture of pine, hazelnut and sorrel with a harmonious balance of pleasant bitterness and sweetness of apples.
Every day at a price of 2.00 EUR.
5. NEGRONI week - a seven-day celebration of one of the world's greatest cocktails! This Italian cocktail was named after the famous Count Camille Negroni, who drank the Americano cocktail with the addition of gin in the late twenties of the last century. Soon after, Negroni gained great popularity.
The promotion is valid from 13th to 19th September and the price is 4.00 EUR!

Welcome to The Living Room in Podgorica!


Podgorica ● Cetinjska no.7, The Capital Plaza

Cuisine ● Italian cuisine, Mediterranean cuisine, Vegetarian cuisine