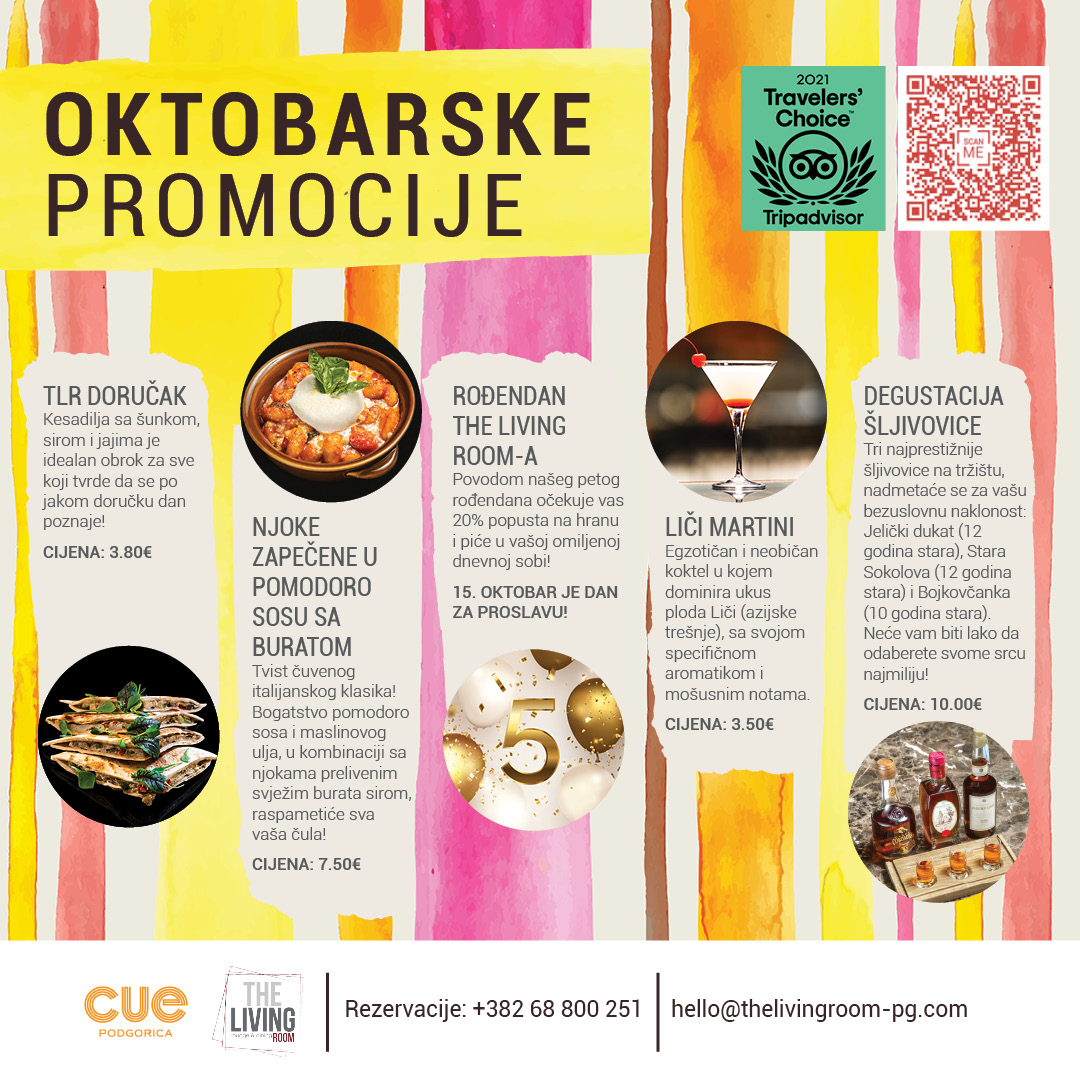 October promotions at The Living Room Podgorica!
October and the autumn mood have arrived. We have prepared great promotions for you, and soon novelties on our menu! We are waiting for you in your favorite living room!
1. TLR breakfast - quesadilla with ham, cheese and eggs is an ideal meal for anyone who claims to know a healthy breakfast day!
The promotion lasts every day and the price is 3.80 Eur!
2. Gnocchi baked in tomato sauce with burat - a twist of the famous Italian classic. The richness of tomato sauce and olive oil, combined with gnocchi topped with fresh barrel cheese will make all your senses go crazy.
The promotion lasts every day and the price is 7.50 Eur!
3. 3rd Birthday Living Room October 15 - on the occasion of our 5th birthday, a 20% discount on food and drinks awaits you! all day
20% discount on October 15!
4. Lychee Martini - an exotic and unusual cocktail dominated by the taste of Lychee fruit (Asian cherries) with its specific aroma and musk notes.
Every day at a price of 3.50 Eur
5. Plum brandy tasting - The three most prestigious plum brandies on the market will compete for your favor: Jelički dukat 12 years old, Stara sokolova 12 years old, Bojkovčanka 10 years old. It will not be easy for you to choose the one you love the most!
The price is 10 Eur!
Welcome to The Living Room in Podgorica!

Podgorica ● Cetinjska no.7, The Capital Plaza

Cuisine ● Italian cuisine, Mediterranean cuisine, Vegetarian cuisine