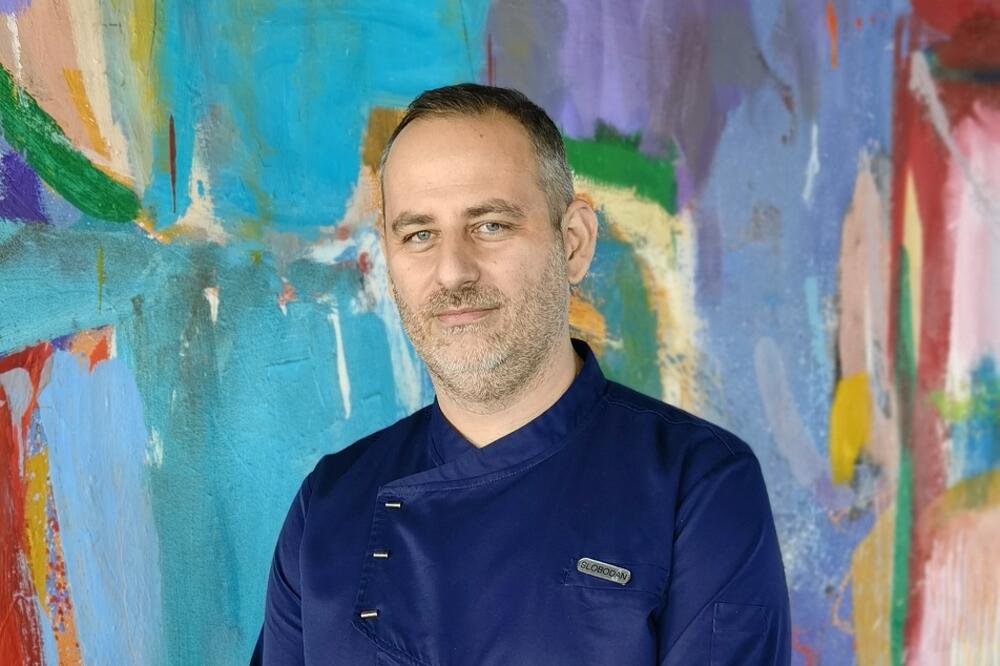 Interview of new chef of the cuisine at The Living Room!
In the heart of The Capital Plaza complex, you will find CUE Podgorica, a modern, chic and urban hotel that provides an unforgettable and exciting experience to guests thanks to maximum open cooperation, innovation in service delivery and new environmental technologies. With great guest reviews for helpfulness, hospitality, interior, cleanliness, respect for COVID measures, this hotel also receives very high ratings when it comes to cuisine, even from the most demanding guests. The magic in food preparation and the credit for refreshing the menu belong to Slobodan Radmanović, the new chef of CUE Podgorica. Under his watchful eye, dishes come out of the kitchen into the hotel restaurant, and into the favorite "living room" of many Podgorica residents and tourists, The Living Room Lounge & Dining.
Radmanovic was inspired by gatherings and important events of family celebrations from an early age for his choice of cuisine. With the support of his parents, he enrolled in a catering school, and from there he gained experience in various, well-known restaurants in Montenegro (Podgorica and the coast), which gave him numerous opportunities to prove his love for cooking. He passed numerous educations, seminars and fairs in Greece, Italy, Spain, France and other countries, and deepened his experiences related to world cuisine, especially Mediterranean, which he especially perfected - according to him, it is one of the best balanced and diverse cuisines.
Could you point out any collaboration with chefs and do you have a culinary role model?
Although I started running kitchens quite early, I had the opportunity to work with a few good chefs. Of the role models I have had during my career, I would single out a man who has delighted me for the last few years, because of his incredible cooking skills and creativity, and especially because of his humanitarian work around the world and the organization of help in preparing a huge number of meals for people affected by disasters. In short and clear, his name is Jose Andres.
What does it mean to be a chef?
Lots of combined experiences and skills, good nerves and the ability to organize in quite different situations. Honestly, as in cooking, the most important feature of the chef is good preparation, ie. organization, both the team at its disposal (which sometimes requires a couple of years of preparation), and all other items to get to the very beginning or a certain level of cooking. Cooperation in all segments, starting from the steward and finally to the guests, ie. their needs, must be balanced and well communicated to make everyone happy.
Is it stressful to work in a full kitchen and how do you deal with the pressure when several groups are in a restaurant at once?
It is certainly stressful and the pressure is mostly constant, everything primarily depends on communication with the team as well as the hotel management in order to do the same job as well as possible. As time goes on and some things fall into place, stress always decreases, but to an acceptable extent. Timely information, good preparation, a good team and enough elements to complete the work solve each group efficiently.
By coming to CUE Podgorica, you changed the menu, entered refreshments. What do the changes reflect, what dishes are in focus now?
Arriving at CUE Podgorica, I first looked to personally adapt to the existing menu and see how it could contribute to the slight evolution of the same, because it was good and high quality. I opted for a little refreshment of the existing stuff. The changes are in the different processing and presentation, as well as the use of new raw materials. I focused on a different preparation of a salad, octopus, risotto, lamb and several new cakes, where we saw that we have a quality choice for all guests.
How would you characterize the international cuisine in CUE Podgorica and how does it stand out from the others?
The cuisine is more than diverse and offers a very large selection of dishes that can be found in all world capitals, all segments are represented - in the restaurant and The Living Room, as well as in the banquet and cocktail variants. I must admit that the local menu has always been different from the others, and we have continued in that direction, with an emphasis on the quality of food and service. The menu, as I mentioned, has an extremely wide offer in which every guest can find their favorite.
Which dishes do you recommend from the new menu and why?
I recommend the new salads, Tuna salad and Beefsteak salad, which are a salad meal and at the same time refresh the body and are nutritionally good as a healthy snack, then Baked gnocchi in tomato sauce with Burat which are a proven Italian combination of flavors with a new twist, three light risottos (Parmesan and lemon, Gorgonzola chicken with walnuts and Mediterranean risotto with salmon fillet), a couple of concrete dishes of exceptional quality such as Lamb fillet, Veal rump steak and Octopus with truffle puree. Lastly, I must not skip three new desserts for everyone's taste: Raw avocado and lime tart suitable behind vegetarians, Chocolate cheese cake and traditional Pavlova.
Is cooking a kind of art and what is it like to cook for the family at home, ie in the guest team?
Cooking is always an art and each dish is in a way a creation in particular, in addition, the chemistry and production are serious because every day in the kitchen overlap various events and no working day is the same as the previous one. The big difference is also being a chef and being on a bigger team that has to fit in, and only especially as a chef. The chef at home or on his own has more freedom to dedicate himself to art as well as special variations. While large operations in most cases require a standard and procedures for guests to experience what they expect, ie to which they are accustomed or above their expectations.
Whose cuisine is the most interesting from the world map?
Every cuisine in the world has its attractions, the Mediterranean is closest to me, where we have exceptional Spanish, Italian and French, brought to very high standards. Asian is exotic and mystical to me and always desirable… it's hard to single someone out.

Podgorica ● Cetinjska no.7, The Capital Plaza

Cuisine ● Italian cuisine, Mediterranean cuisine, Vegetarian cuisine