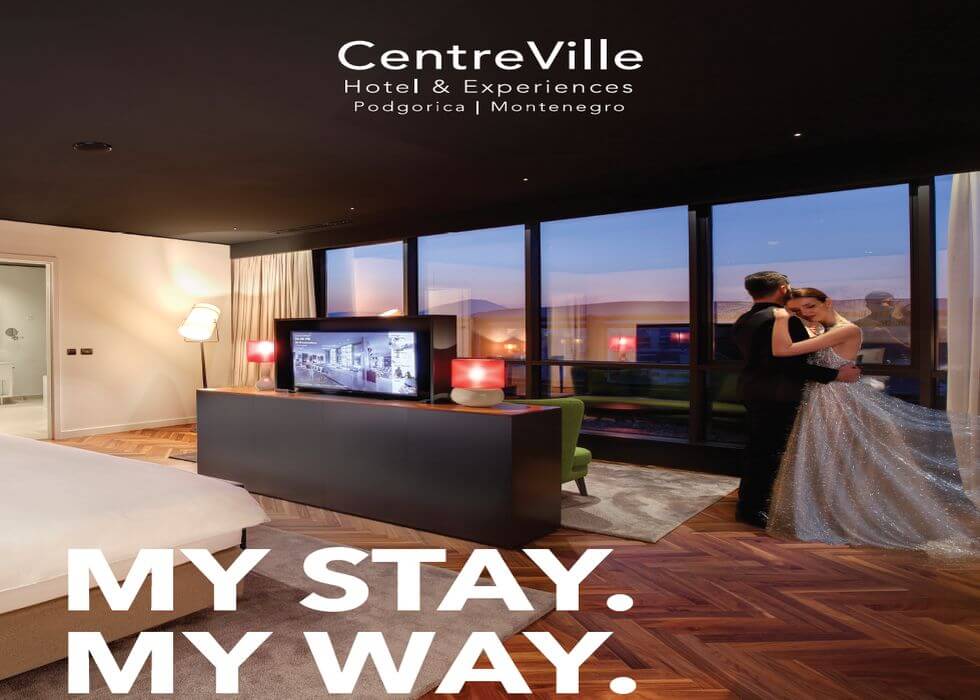 31.10.2019 :: October at The Living Room and CentreVille hotel
CentreVille hotel and The Living Room in Podgorica announce great nightlife and enjoyment presenting the October events calendar. Beside parties, promotions and musical performances, the hotel celebrates also Halloween night with humanitarian character.
HUMANITARIAN HALLOWEEN BALL
On initiative of Montenegrin fashion designer Lazar Ilic, at the Living Room during Halloween will be organized humanitarian ball under masks. On Wednesday 30th of October from 21h, all visitors, under mask, will enjoy DJ live set, promotions, decorated interior and humanitarian program. Three of the most original masks will win the prize that is going to be transferred to humanitarian purpose, while all guests will have the opportunity to contribute in line with their own wishes and possibilities.
Parties at The Living Room lounge
Autumn program at The Living Room is promising! After summer events at the atrium of Capital Plaza center, great nights will continue in your favorite living room in the city. Series of events will be opened on Thursday 03th October by DJ FELIX, which will lead you into the weekend with positive vibes and sound. Also, he will be in charge of good music every Thursday during this month from 21h.
Friday 04th October is booked for the show of Andrea Demirovic and band, that starts at 21h; also we are expecting them on Saturdays 12th, 19th and 26th October.
The end of first October weekend will be concluded with duo DJ Coske and violinist, on Saturday 05th October from 21h. We will also listen to this duo on Fridays 11th, 18th and 25th.
YOUR MOET CHANDON BIRTHDAY
For all of those whose birthday is in October, we have great news from Hotel CentreVille! If someone decides to make his birthday party exclusive, the team of the hotel has taken care of to find ideal combination to make it happen. Of course, rarely birthdays come without a delicious cake, and if you pair it with the most prestigious champagne of today - you get an amazing experience. Each day in October the guests will have the opportunity to celebrate their birthday with closest friends and leave long term impression with ideal combination - birthday cake and Moet Chandon for 100 EUR!
Whisky tasting
Each day the visitors of lounge bar The Living Room will have the opportunity to taste all 5 Scottish regions that have been known, for hundreds of years, by their tradition and expertise in making whiskies. The guests will be offered a palette of 5 best whiskies from Scotland for only 15 EUR. The offer is valid until end of October.
BUSINESS LUNCH FOR 7 EUR
Even this month The Living Room will be the place where you''ll have the perfect lunch. Namely, during whole month of October the guests will have the opportunity to enjoy various selection of daily meals paired with salad and juice for only 7 EUR! Lunch break never sound this delicious! The offer is valid each day in October from 11h-14h at The Living Room lounge and dining!
ULTIMATE LUXURY
For all visitors of capital that want to visit and enjoy Podgorica and create beautiful memories, CentreVille Hotel has prepared special offer named "Ultimate luxury". The offer comprehends staying at the largest Penthouse in Podgorica, luxury transport from airport to the hotel and back, bottle of Moet, bed breakfast, free of charge using The Capital fitness center, fast wi fi as well as the early check in and late check out from the hotel.
For all additional information and special offers follow the link https://foodbook.me/en/profile/the-living-room-lounge-and-dining or call +382 20 684 000.
Welcome to CentreVille Hotel and the capital of Montenegro Podgorica!

Podgorica ● Cetinjska no.7, The Capital Plaza

Cuisine ● Italian cuisine, Mediterranean cuisine, Vegetarian cuisine