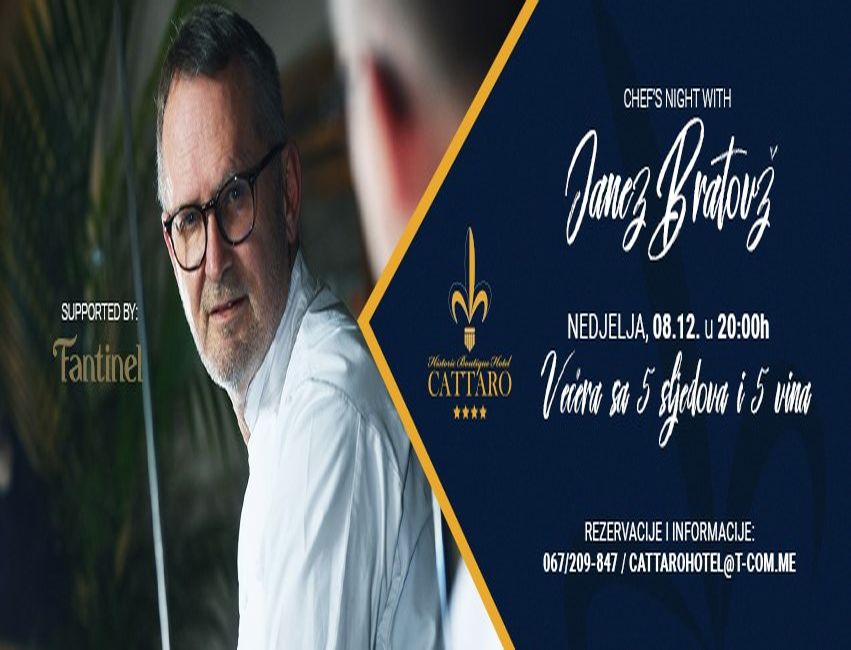 Chef's night by Janez Bratovz at Hotel Cattaro
The last edition of serial "Chef's Night" in this year will be held two nights in a row (since the first night is already sold out) on Saturday night 07.12.2019 and Sunday 08.12.2019 at Hotel Cattaro. The pioneer of modern Slovenian cuisine, Janez Bratovz the owner and chef of restaurant JB Restvracija in Ljubljana, will be in charge or top quality gastronomic pleasure! Janez was always defined as a person who always strives for perfection. His culinary creations are bold and original. You will enjoy the flavors of exquisite meals and totally new culinary experience.
With the menu that Janez has prepared for us, we have paired the wines of winery Fantinel from Friuli region in Italy. This winery exists from 1969. and is recognized as the ambassador of Friuli region wine scene. Their Prosecco can be found at best restaurants in Italy and Europe as well.
Information and reservation:

mob. +38267209847
email: [email protected]
Welcome to Hotel Cattaro!