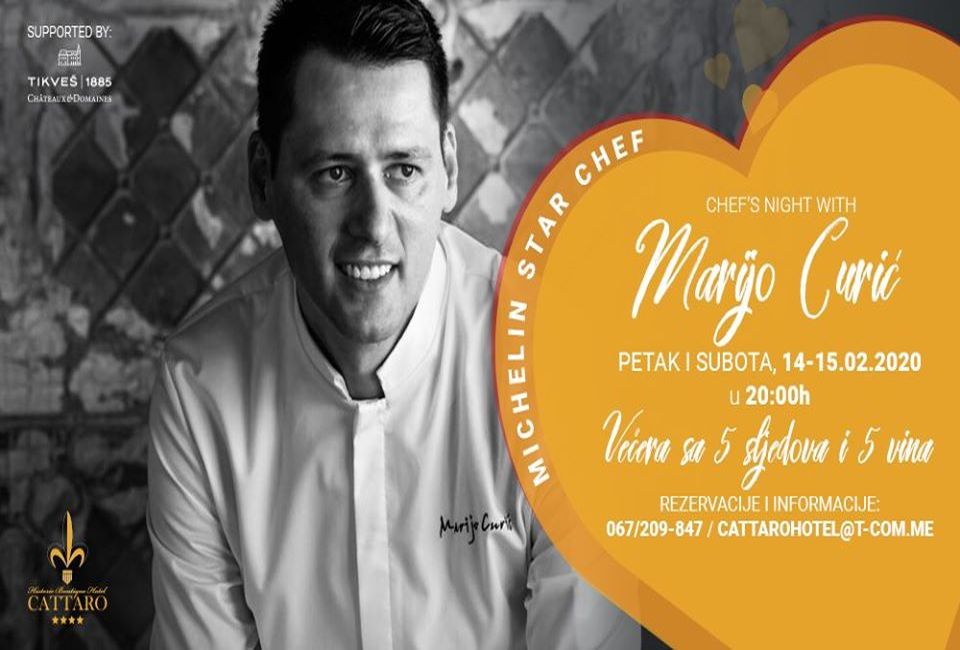 Chef's night by Mario Curic - Hotel Cattaro
It is unwritten rule that team that wins shouldn't be changed! According to that, the serial Chefs night will be continued with a dinner that takes place on 14th and 15th February at restaurant of Hotel Cattaro! Our guest this time is Marijo Curic from restaurant 360 in Dubrovnik!.
He learned from French chef Gilles Camilleri and, using Croatian culinary heritage as inspiration, he created strong foundations for his own cuisine. His cuisine is basically still like French style and technique but with strong accent on domestic and local flavors and tastes.
With the meals prepared by Marijo, we have paired wines of winery Tikves. Those are wines from Domaine Bela Voda and Domaine Barovo in Macedonia, as well as wines from the area of South Rona in France, from Chateau de Gourdon. Those wines won various medals and best rates on Decanter and we believe that the star of the night will be Chateau de Gourdon with its premiere in Montenegro.


Information and table bookings: mob. +382 67 209 847
email: [email protected]
Menu:
1. Carrot – lightly cooked with cream, chips and pine nuts
Wine pairing: Sauvignon blanc
2. Mackerel bonito dressing – potato mayonnaise and spices
Wine pairing: Jolie Balade (Grenache Noir, Syrah, Carignan, Cinsault)
3. Roumbach with custard of cvjetace and dark fish sauce
Wine pairing: Bela voda white (Chardonnay and Belan)
4. Pigeon, cicorie cream and cherry cream, pigeon sauce
Wine pairing: Vase de Pierre (Chardonnay, Belan)
5. Cake – caramel pear with currant cream and almond biscuit
Wine pairing: Mistral au jardin (rose Cinsault and Grenache Noir)