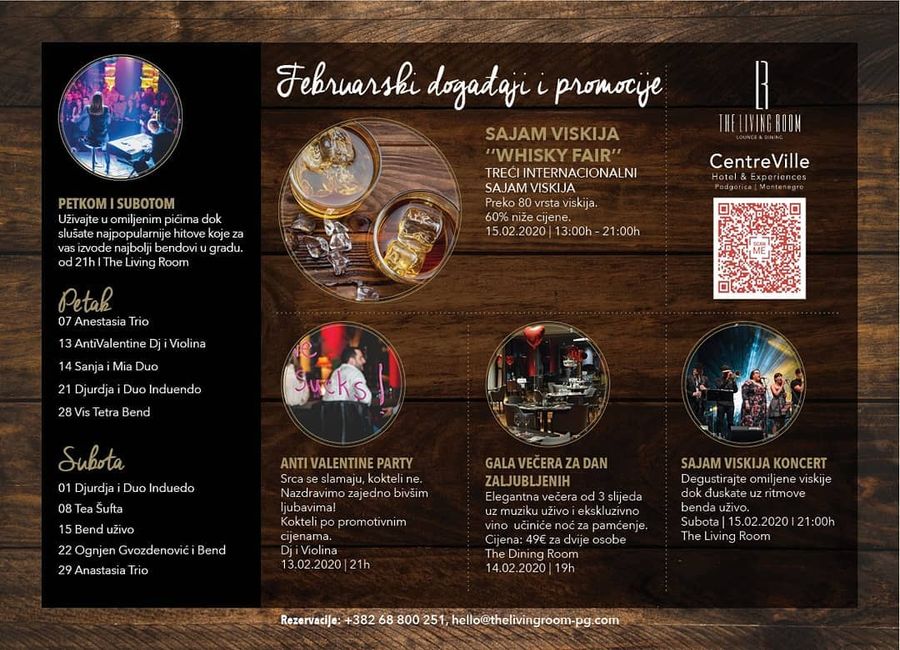 February at CentreVille Hotel and The Living Room lounge
CentreVille Hotel and The Living Room lounge in Podgorica have prepared another fantastic month full of great parties, events and promotions! Read further for what you can expect in this month.
International Whisky Fair

Central event in February is definitely a 3rd International whisky fair that will take place in CentreVille hotel on 15th February from 13h to 21h. The fair named "Whisky Fair Podgorica" will present over 80 types of whisky! Ticket price is 10 Eur and purchase is available on the reception of the hotel. At the end of evening, when fair closes, you may enjoy the live show some of the most popular bands at The Living Room lounge and Dining!
Gala dinner for Valentines Day
Give special evening to your loved one on Valentines Day! We have prepared special package for you - elegant 3- course dinner with live music and exclusive wine by the price of 49 Eur!
Anti Valentine Party
Heart breaks, cocktails not! Lets cheers together for ex love with cocktails by special prices and live DJ and Violin performance! 13th February from 21h.
Music Events Schedule at The Living Room lounge and dining
Even in February we continue with great night life at your favorite living room! This time you will enjoy some new faces, bands and surprises! Music events schedule follows:
FRIDAY
07th February - Anastasia TRIO
14th February - Sanja and Mia Duo
21st February - Djurdja and DUO Induendo
28th February - VIS TETRA band
SATURDAY:
08th February - Tea Šufta
15th February - Whisky Fair after party with live band music performance
22nd February - Ognjen Gvozdenovic and Band
29th February - Anastasia TRIO
For more detailed information call +382 68 800 251 or visit presentation of The Living Room lounge and dining at following link
https://foodbook.me/en/profile/the-living-room-lounge-and-dining


Podgorica ● Cetinjska no.7, The Capital Plaza

Cuisine ● Italian cuisine, Mediterranean cuisine, Vegetarian cuisine