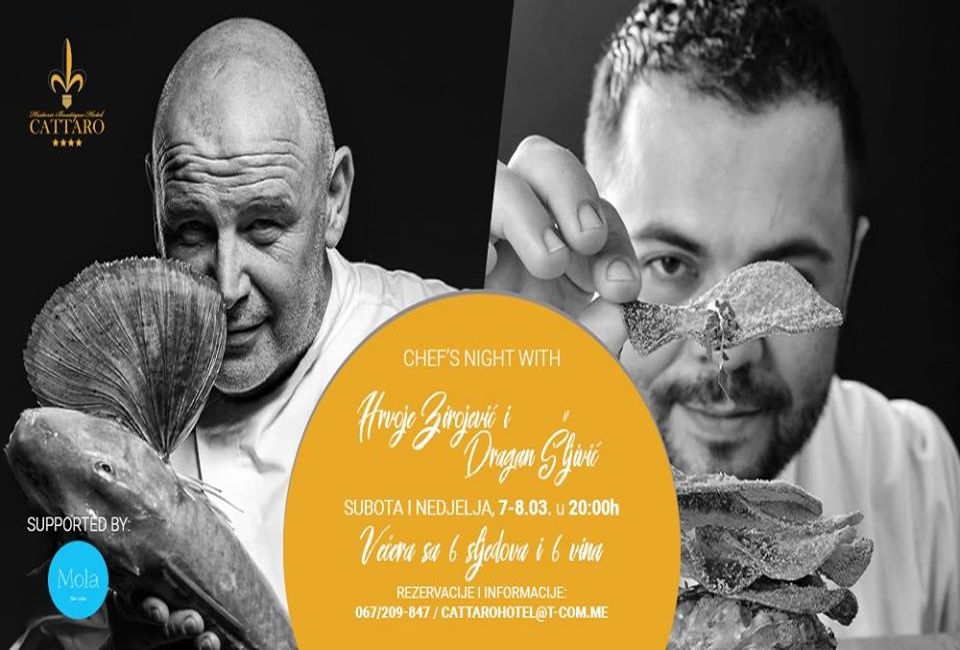 Woman's Day at Hotel Cattaro - Chef's Night!
For our dear ladies and their partners Hotel Cattaro has prepared gastro spectacle that will be held on 07th and 08th of March from 20h within special serial CHEFS NIGHT!
This time we are hosting culinary duo Hrvoje Zirojevic and Dragan Sljivic who will prepare dinner with 6 courses and 6 wines!
For chef Hrvoje Zirojevic plates are the type of art that he serves to his guests at restaurant LAGANINI on Palmizana, which regular guest is a world star Bono Vox, frontmen of U2 band. A part of his creations are white rice with cuttlefish and black icecream, smoked tuna tartar with octopus served in amphora and cannelloni stuffed with octopus ragout and pancetta. Of course, at Chefs night he will also be in charge of Fish menu.
Second member of this amazing duo is Dragan Sljivic, our old friend that will present his culinary art for the second time to the guests of Hotel Cattaro. He is in charge of meat and sweet part of the Menu and we are sure that guests will love it!
Meals will be paired with wines of Montenegrin winery MOLA, which will present their 6 labels. It is a boutique winery located in village Rogami, near Podgorica and founded in 2009. Their wine yard covers surface of 10 000 m2 on the location called Mrki Krs (Dark stone). Their wines have amazing character, complexed and full of minerals because of specific geographic terrain full of sunny days and north wind.
Dinner price with 6 courses and 6 wines is 50 EUR per person.
Information and table bookings:
mob. +38267209847
email: [email protected]
Welcome to Hotel Cattaro!