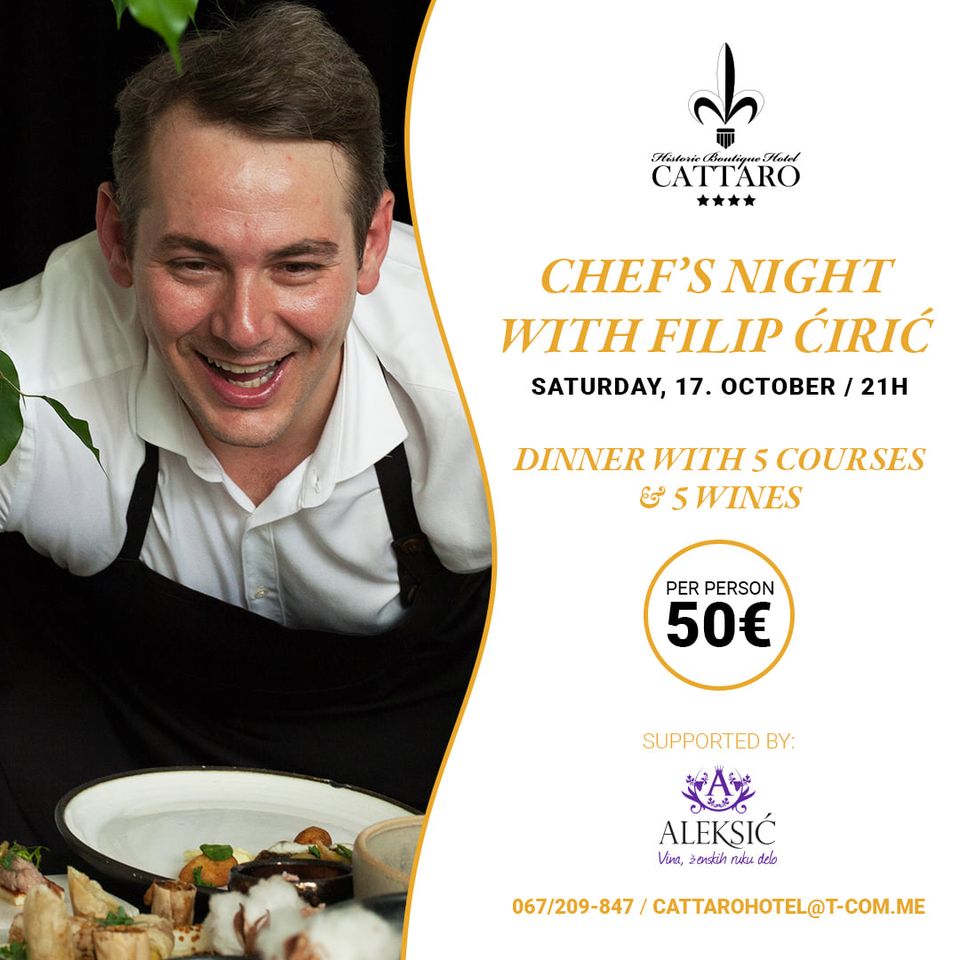 Chef's night by Filip Ciric at hotel CATTARO!
Dear friends, if you thought we have forgotten about you it would be so wrong! :))) Turn your senses on because the 3rd Season of gastro events CHEFS NIGHT is coming. New flavors and scents will satisfy even the most demanding enthusiasts of fine dining gastro scene. During the past few years we have tried many delicacies and learned so many things but, believe us, this year we are raising the bar even higher! Just be with us and complete pleasure awaits for you.
This seasons serial we begin on 17th October with the hosting of Filip Ciric, chef and coowner of Belgrade fine dining restaurant HOMA! He is known as somebody who equally well prepares sushi and meat. His skills were presented in Newyork Times and he was also remembered as judge in TV show ''Moja kuhinja, moja pravila''. Of course, many of you have already tried traditional Serbian specialties but now, imagine all that adjusted to fine dining cuisine and you will get a glimpse of what is expecting you on Saturday night the 10th of October.
Have you heard about wine, woman hands craft? Tree sisters, Gaga, Maja and Marija have continued their family tradition that was started in Dalmatia, founded winery ALEKSIC and transfered it to south Serbia. You will be astonished by the quality of their wines by tasting Tamjanika, Smederevka, Caberne and Pinot Noar, that are perfect match with the cuisine of Filip Ciric. Historique boutique hotel Cattaro provides a top quality service and settles city of Kotor highly on the list of most popular gastro destinations in region.
The number of seats is limited, therefore book your table timely! Information and reservation at:
mob. +38267 209 847
email: [email protected]
Price: 50 EUR per person