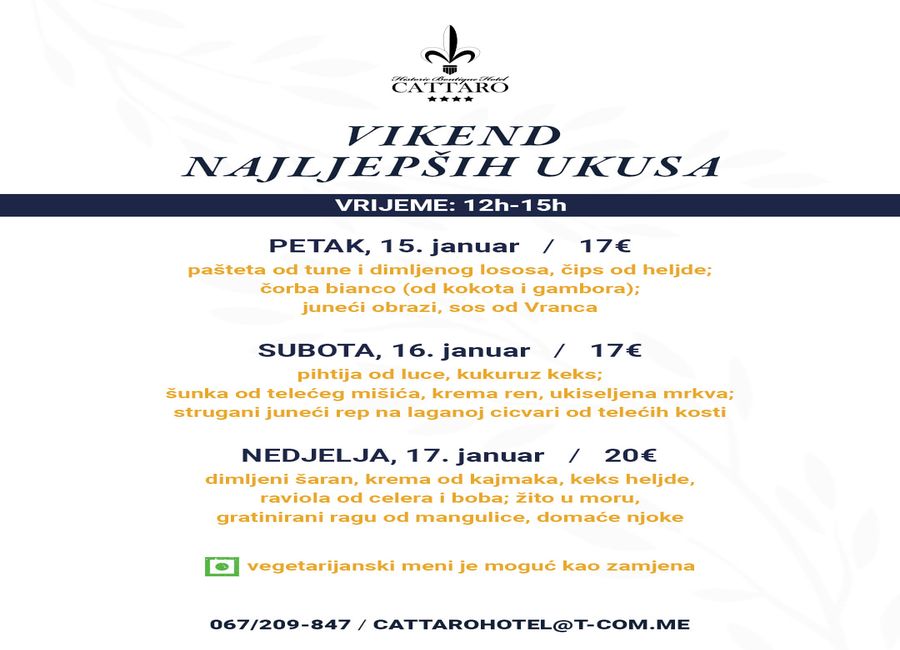 Most beautiful flavors weekend at hotel Cattaro
A weekend of the most delicious flavors at Hotel Cattaro is ahead of you. You are all invited ... welcome !!!
Information and reservations: +38267 209 847 Email: [email protected]
TIME: FROM 12H - 15H
Menu:
Friday, January 15th - 17 EUR
tuna and smoked salmon pate, buckwheat chips, chicken and shrimp soup, beef cheeks, blackberry sauce
Saturday, January 16th - 17 EUR
onion pihtija, corn biscuits, veal muscle ham, horseradish cream, pickled carrots, grated beef tail on a light veal bone chicory
Sunday, January 17th - 20 EUR
smoked carp, cream, buckwheat biscuits, celery and bean ravioli, seafood, au gratin ragout, homemade gnocchi
A vegetarian menu is possible as a substitute.