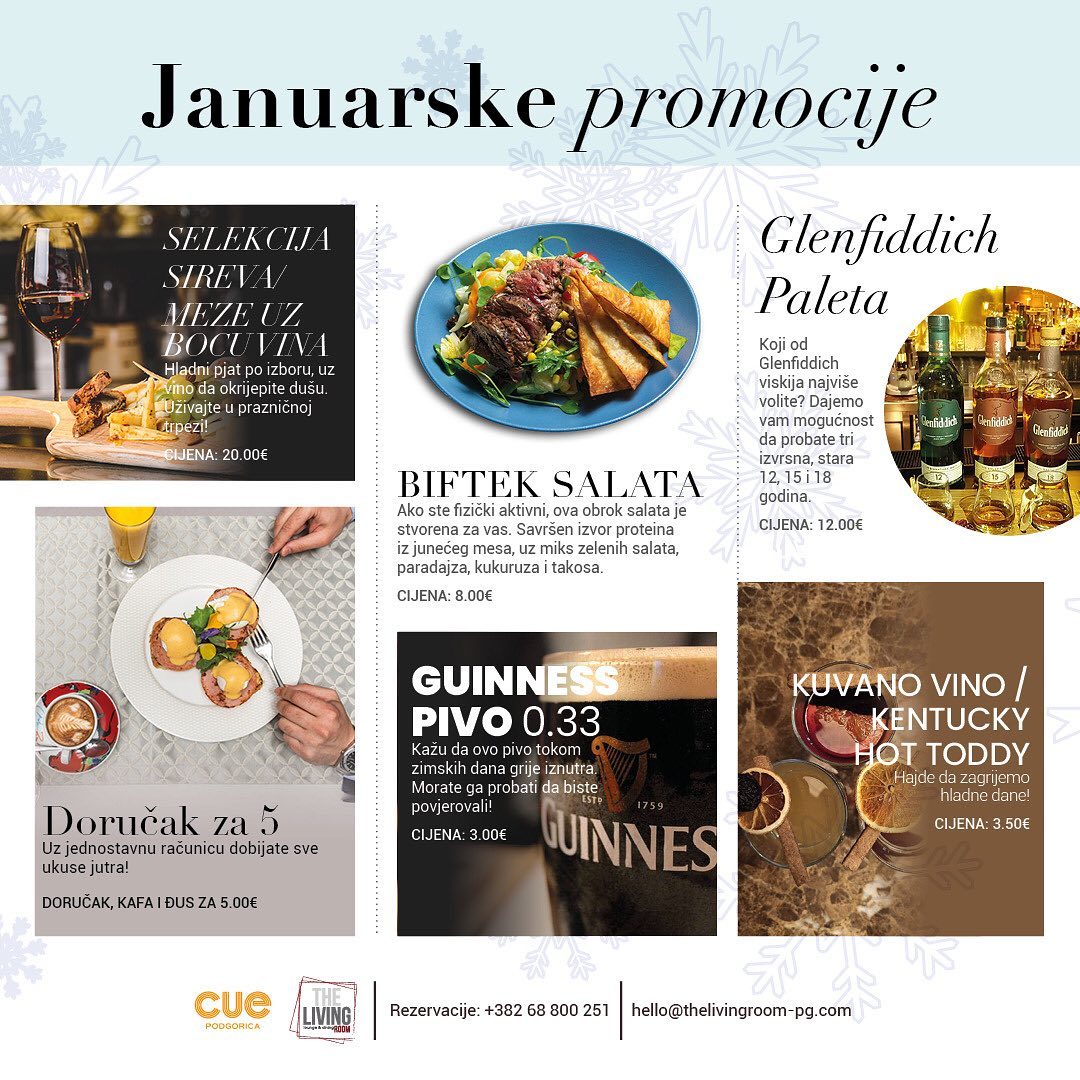 January promotions at The Living Room Podgorica!
January has arrived with winter charms, tastes and tones. Everything you need this January is in your favorite living room in Podgorica. Welcome!
1. Beefsteak salad - if you are physically active then this salad is ideal for you. The perfect source of protein from beef, with a mix of lettuce, tomatoes, corn and tacos.
The promotion lasts every day and the price is 8.00 Eur!
2. Selection of cheeses / appetizers with a bottle of wine - a cold dish of your choice, with wine to invigorate the soul! Enjoy the holiday table.
The promotion is valid every day and the price is 20.00 EUR!
3. Breakfast for 5! - With a simple calculation, you get all the flavors of the morning! Breakfast, coffee and juice for 5 Eur.
Every day at a price of 5.00 Eur
4. Guinness beer 0.33 - they say that this beer warms the inside during the winter days! Try and check.
Every day at a price of 3.00 EUR!
5. Glenfiddich Palette - Which of the Glenfiddich whiskeys do you like the most? We give you the opportunity to try 3 excellent, aged 12, 15 and 18 years!
Price: 12 Eur
6. Mulled wine - warm on cold days! Every day at a price of 3.50 Eur.
Welcome to The Living Room lounge in Podgorica!

Podgorica ● Cetinjska no.7, The Capital Plaza

Cuisine ● Italian cuisine, Mediterranean cuisine, Vegetarian cuisine