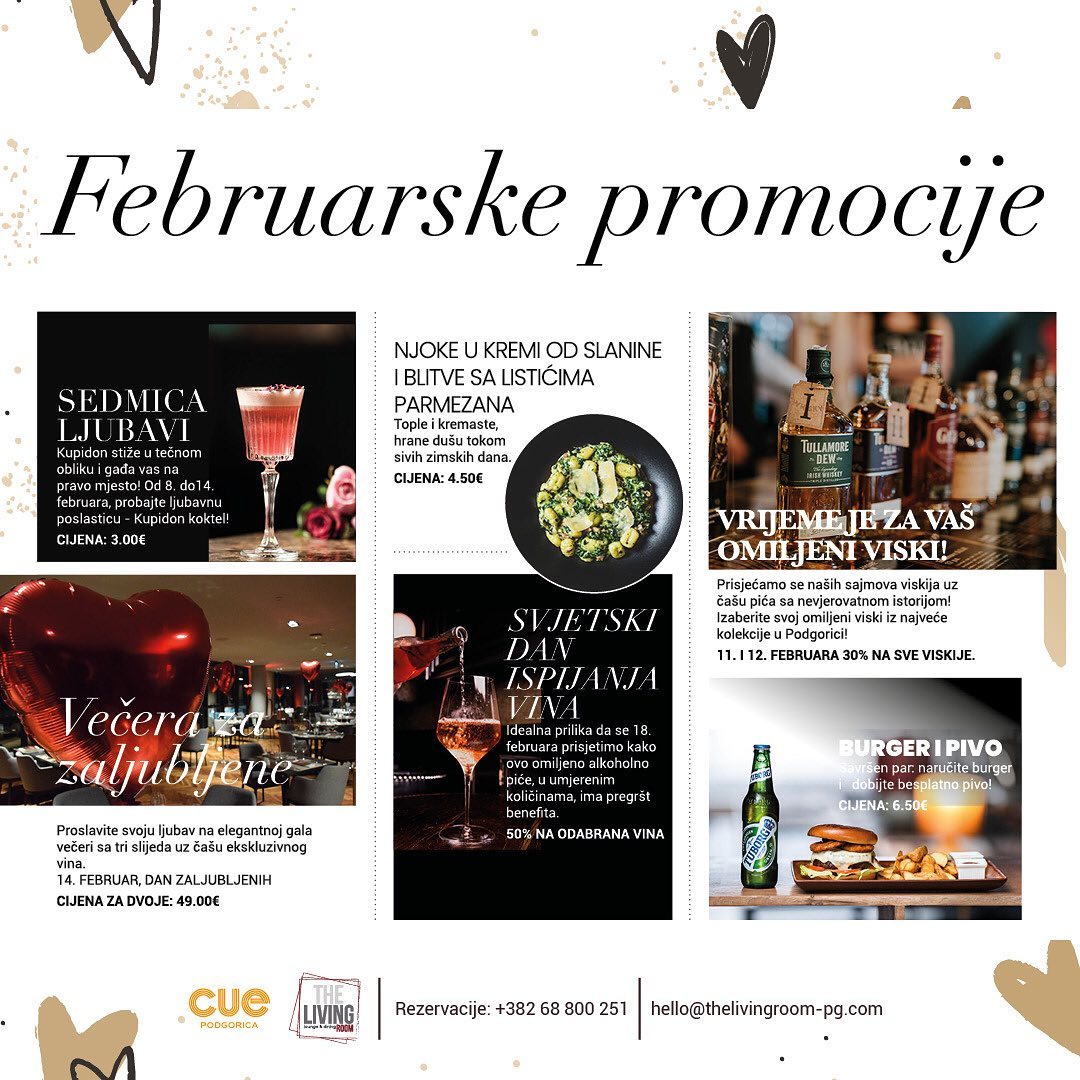 February promotions at The Living Room
Cold February has its charms in special places, like your favorite living room!
Enjoy a month of love and great promotions!
1. Gnocchi in bacon and chard cream with parmesan leaves - warm and creamy, nourish the soul during cold winter days.
The promotion lasts every day and the price is 4.50 Eur!
2. Burger and beer - a pair that is hard to resist! With the ordered burger you get free beer.
The promotion is valid every day and the price is 6.50 EUR!
3. Dinner for the ones who are in love - celebrate your love at an elegant 3-course gala dinner with a glass of exclusive wine!
Valentine's Day February 14 - price for two 49 Eur!
4. Love Week - Cupid arrives in liquid form and hits you in the right place! From February 8 to 14, try a romantic treat, Cupid's Cocktail!
February 8 - 14 at a price of 3 Eur
5. Time for your favorite whiskey - we remember our whiskey fairs with a glass of drink with an amazing history! Choose your favorite whiskey from the largest collection in Podgorica.
30% discount on all whiskeys on February 11th and 12th!
6. World Wine Day - an ideal opportunity to enjoy this favorite alcoholic beverage with a 50% discount on selected wines.
The promotion is valid on February 18!
Welcome to The Living Room in Podgorica!

Podgorica ● Cetinjska no.7, The Capital Plaza

Cuisine ● Italian cuisine, Mediterranean cuisine, Vegetarian cuisine