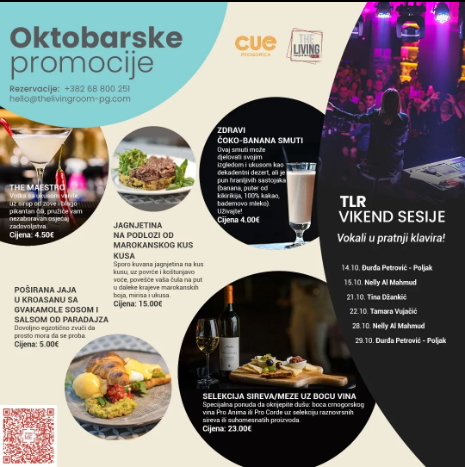 October promotions at The Living Room lounge
Autumn has arrived and with it promotions that you must not miss in your favorite living room!
1. Lamb on a bed of Moroccan couscous - slow cooked lamb on couscous, with vegetables and stone fruits.
Every day at a price of 15 Eur.

2. Poached eggs in a croissant with guacamole sauce and tomato salsa

Every day at a price of 5 Eur
3. Healthy Choco-Banana Smoothie - this delicious smoothie is full of healthy ingredients: banana, peanut butter, organic cocoa, almond milk.
Price: 4 Eur
4. Maestro cocktail - vanilla-flavored vodka, with apple syrup and spicy chili will give you a great feeling of satisfaction.
Price 4.50 Eur


6. A selection of cheeses with a bottle of wine - a special offer to refresh your soul: a bottle of Pro Anima or Pro Corde wine with a selection of cheeses or cured meat products.

Price 23 Eur.
Welcome to The Living Room in Podgorica!

Podgorica ● Cetinjska no.7, The Capital Plaza

Cuisine ● Italian cuisine, Mediterranean cuisine, Vegetarian cuisine