Sparkling wine Prosecco originates from the northern-eastern Italy in a small wine-producing region called Conegliano Valdobbiadene, in the area of Veneto.
While this type of wine is recognized by the shoppers as a cheap product intended for the widest market, manufacturers have made progress and created a recognizable brand for every occasion, with a wide range from aperitif wines for celebrations to ultimate companions of the finest food. This was done after many experiments through the years.
At the same time, market demands have drastically increased, a variety of styles continued expanding and quality level was raised. This resulted in Prosecco being the most popular sparkling wine worldwide, simultaneously offering a lot even to the most demanding wine-growers.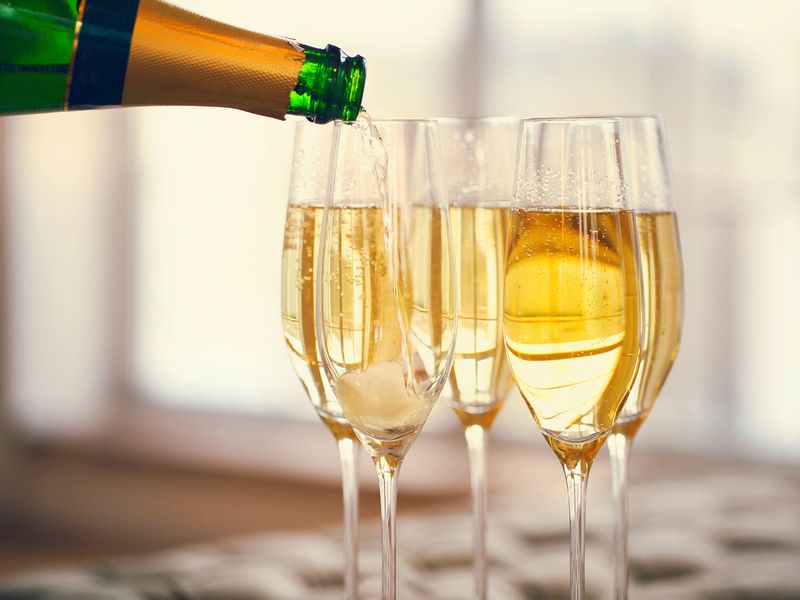 Glera is Prosecco
Green grapes with a very thin scarfskin and high acid that thrive in the areas of Veneto and Friulli was named Prosecco. As of 2009, on behalf of lawmakers and in order to protect the Prosecco name , it is renamed to– Glera. That same year, region Conegliano Valdobbiadene has become the 44. DOCG Italy's appellation.
Glera is the ideal raw material for sparkling wine. It gives away the scents of melon, peach, pear, white flowers and produced wines are light to medium bodies, while the alcholol percentage ranges between 8,5 % and 12,5 % for a dry wine .
Prosecco is absolutely not Champagne
The difference is in a raw material from which these sparkling wines are produced but above all in technology. While the Champagne is being produced through the process of wine being fermented for the second time in a bottle, where it changes its texture, complexity, resulting in completely different aromas such as toast and brioche, production of Prosecco wine is carried out in a tank maintaining unique freshness and basic notes of fruit and flowers.
There are several technologies for producing Prosecco, with the most famous one being Charmat- Martinotti, with a finished product being obtained much faster, easier and most importantly- in a cheaper manner.
Prosecco appellations
DOC labelled wines offer basic guaranteed quality and their origin is from nine provinces of Veneto and Friulli- Venezia Giulia. They are mostly produced in the areas of Treviso and Trieste, while the best Prosecco originates from the appellations of Asolo Prosecco DOCG and Conegliano Valdobbiadene Prosecco Superiore DOCG. Also, among the most reputable appellations there are Superiore Rive DOCG and Valdobbiadene Superiore di Cartizze DOCG.
Sparkling wines originate from Conegliano Valdobbiadene Prosecco Superiore DOCG and are produced from the grapes in the wineyards on the hilly grounds between the towns of Conegliano and Valdobbiadene in Trieste province, area full of historical proofs of how wine is produced since Roman Empire time. Also, Conegliano was long considered to be the cultural capital of northern-eastern Italy and the first wine school in Italy was founded there.
Col fondo Prosecco- different style of wine
Col fondo is Prosecco that is fermented in a bottle, with a different style and is attractive to lovers of natural wine, or wines with minimum interventions in a cellar. Yeast sludge remains at the bottom of the bottle and wine is capable of aging long after the harvest. Name col fondo practically means ''with a sediment'' (bottom), and these types of wine mainly originate from two appellations .
In that sense, Superiore Rive DOCG label refers to wines produced in some of 43 labelled municipalities or wineyard locations, with steepest wineyards that are considered to be the best ones since they offer unique types of land and micro-climate. Grapes are harvested by hand and harvest is always being imprinted on the label.
Still, maybe one step higher is Valdobbiadene Superiore di Cartizze DOCG, practically grand cru of Prosecco production. Wines originate from the subzone in Valdobbiadene under the name Cartizze, which in 1969 adopted completely new set of wine regulations. Top etiquettes with this labels could cost even up to seventy Euros per bottle.
Sweetness and sparkling of Prosecco
When it comes to sparkling, Prosecco is known as frizzante (milder carbonated) or spumante (very sparkly). Frizzante (where wine col fondo belongs) reaches atmospheric pressure in a bottle of 1 to 2,5 bars and is mostly cheaper from spumante that matches Champagne with up to five bars of the atmospheric pressure. It is also of a much lower price when compared to ''French cousin''.
As far as sweetness is concerned, DOC Prosecco appears in four levels. The driest is the brut, then extra dry, dry and demi-sec.
However, DOCG does not recognize demi-sec category .
Is prosecco produced outside the Italy?
Although Italy is a place of origin for sparkling wine, grapes actually grow in Slovenia, but also in Royal Valley in Australia where the producers make better and popular sparkling wines insisting on grape sort to still be called Prosecco, which easily lead to real war between the New World wineries and European Union.
The most famous Prosecco wines on a market
Ca' dei Zago 2015 Dosaggio Zero Metodo Classico (Prosecco di Valdobbiadene) is elegant and crematous wine full of dried flowers aroma, ripe fruit and bread dough, with a touch of herbs and spices.
Case Paolin NV Col Fondo (Asolo Prosecco Superiore) with a taste of lemon and flowers gives away green apple, pear, citrus notes and a little bit of salinity along with very lively acids.
Biodynamical Albino Armani NV Casa Belfi Col Fondo offers discreet hint of roasted almonds, bread dough and dry wild flowers, full of crispy acids and yellow apples on palate.
Althea NV Dry (Prosecco Superioe di Cartizze) is creamy and sophisticated, enchants with blossoms of citrus, honey and elder, further developing into aromas of wineyard peach, almonds and candied lemon peer.
Mionetto NV Luxury Dry (Prosecco Superiore di Cartizze)- reach and creamy palate preceding with clear aroma of ripe pear and green apple on a nose; later you will be surprised by tones of nectarine and candied lemon peel erupting from strong cartilage acids.
Borgoluce- sparkled, aromatic and seductive Valdobbiadene Prosecco Superiore, Borgoluce D.O.C.G. Extra Dry is one of the leading Proseccos in Italy, also available on our market.
This sparkling wine originates from the Italian Veneto area, produced from 100 % of Glera sort and represents ideal aperitif for all types of dishes. Harmony and taste of elegance are completed by surprising softness on a palate and concrete orange taste.
Source: www.vino.rs
---
Leave a comment